Norbert Myslinski Receives USM Board of Regents Faculty Award
The Board of Regents Faculty Award represents the highest honor bestowed by the board to exemplary faculty members from USM institutions. Myslinski won the annual Faculty Award in the category of Excellence in Public Service. He is one of four from UMB to win USM Board of Regents Awards in 2020.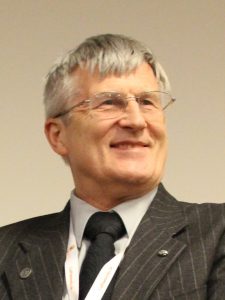 "This University System of Maryland award is a reflection of my love of neuroscience education for everybody: the young and old, the rich and poor, the deaf and blind, and all those with special needs," Myslinski says. "I accept it on behalf of the hundreds of organizations and thousands of colleagues in more than 50 countries who helped me inspire and motivate young men and women, the next generation of clinicians and researchers who will find treatments and cures for brain disorders."
Norbert Myslinski, PhD, Associate Professor, Department of Neural and Pain Sciences, UMSOD
Myslinski is a renowned educator and 45-year UMSOD faculty member who has spread his passion for neuroscience and the study of the brain to students through publications, lectures, and innovative programs.
One such initiative is the International Brain Bee, a competition he founded in 1998 that is designed to motivate students to learn about the human brain and inspire them to consider careers in clinical and basic neuroscience. Participants are tested on their knowledge of the brain including dysfunctions and research.
He is chiefly responsible for growing the Brain Bee from 12 local chapters upon its founding to over 170 chapters around the world. More than 40 nations hold their own Brain Bees, and the national champions represent their countries in the International Championship, which is largely coordinated by Myslinski and last year hosted a record number of high school students from 28 countries and six continents.
Also, for 20 years beginning in the 1980s, Myslinski directed the High School Summer Biomedical Research Program at UMB, an eight-week, full-time, hands-on program for 30 poor and disadvantaged Maryland students. The annual program involved more than 75 faculty and staff from UMB schools and departments.
Myslinski also founded the International Youth Neuroscience Association, an organization dedicated to inspiring the next generation of neuroscientists. In 2016, he was named Science Educator of the Year by the Society for Neuroscience, the largest neuroscience organization in the world, for his commitment to training scientists dedicated to treating and researching cures for brain disorders.